Parent Teacher Conference Help
Parents received an email with instructions and a link when they signed up. Anticipate a small percentage of parents not being able to figure it out: you may have to look up a few phone numbers in PowerTeacher.
Resources:
CBE staff insite page about MSTeams/MyConferences
Crescent Heights Video Guide
Parent's Guide
Conference Booking System Link
https://myconferences.cbe.ab.ca/sso/admin.aspx
All you really need to know: Link Appears 5 minutes before meeting
"5 minutes before the meeting", a link (for the MS Teams Meeting) will pop up on your booking page for you. In practice, this link actually shows up several hours before. You can also find the link earlier than that with a few more steps outlined below.
Full Stop: That's All You Really Need to Know. The rest is more tricky and unnecessary. Just make sure you can sign into MSTeams (MS recommends the app rather than the web version). If you really need to know how to add the conferences to you outlook/teams calendar well in advance, click one of the two buttons below. It will also show a sample email sent out to parents when they book.
---
---
Remove Google Accounts from iPads
Remove accounts from iPads, NOTE: !!!Safari needs to be done separately from Chrome!!!
In Safari, clearing all browsing history will do the job! Clear all browsing history in every browser used!
You need to be signed into your @cbe.ab.ca account to view the video below
---
Student iPads can't use Google Apps
On iPads, your students couldn't edit a doc/slide because the app was out of date. Here's how to get around it!
Explanation Video Link
Use safari
navigate to 'drive.google.com'. Don't use the app. Do it in safari! (student will have to log in)
Click the Aa symbol by URL
select 'request mobile site'
now click the menu by the Google drive (hamburger style - 3 horizontal lines)
Select 'Desktop Version'
You're now using it in the browser - you can open new docs/slides. edit old ones etc.
ALWAYS DENY THE REQUEST TO USE THE APP!!!!!
Making a Virtual class visible to only one class.
This is for if you multiple sections in the same D2L shell, and you want the virtual classroom only visible to one of those sections/groups. I made this video for Ruttle, but if you want to see how it's done, watch:
Virtual Classroom to only one section
---
Activate Adobe CC Products on your school laptop
Photoshop, Character Animator, Acrobat Pro etc.
They are all activated in the same way.
AdobeCC Activation
---
---
---
Properly making an assignment in Google Classroom
The important thing is to make a copy of worksheets for each student, so they each have their own. This can only be done when first setting up the assignment.
Link if video not playing in browser
---
Taking a Video from Google Drive and Embedding on your D2L shell
So you have a video on your google drive that you want to embed on your D2L shell?
Link If Video Not Playing
---
---
---
Screen Recording
How to record your screen with narration, easily using baked in software (no installations). You can use to go through a document with kids, or if you have a document camera, you can go through a written test etc.
Link to Video If not playing on page
---
Record your Class Sessions (D2L/Meet)
Don't record students. Here's how:
---
Combine/Merge PDFs
Option 1: Local
If you're doing this a lot, you'll want the proper software to do it locally (this is what I do). For this option make sure you're using Adobe Acrobat Pro DC 2020, not Acrobat Reader. It can be installed from Self Service (or Software Center - PC) if not already on your machine. Once that's installed - here's the instructions:
Adobe's Tutorial.
***Update*** I have found MacOS's automater to be the fastest way to do this now. A little tricky to set up, but afterwards way easier.
Here's a link:
How to use Automater on MacOS to combine PDF files
Option 2: Online (Easier)
Easier, but you're uploading to an external site and having them combine the files, so you need an internet connection. There are tonnes of options for this, but I really like this company and use their PPT merge tool for large ppt merges, so I'm recommending their PDF tool based on that.
Aspose PDF Merger
---
Make PDF of specific pages
Open the PDF
Open the Print Menu(Commad-P on Mac)
You have to choose "Save As PDF" as the printer
Choose the pages you want included in your new file
Press the Print Button
Voila, a new pdf with just the pages you selected.
You can also reorder pages etc. in Acrobat (not Acrobat Reader), but the above option is the fastest/simplest IMO. Then again you can also screenshot individual questions (Command-Shift-4) to place inside a Word/Google Doc if you just want part of a page. You can then print or download as PDF if that's the format you want.
---
Link your two e-mail accounts
Sometimes Meet invitations or other messages come to your @educbe.ca account, especially if you're using Google Classroom. It's annoying to be constantly checking 2 emails. This is how to auto forward to your real, fully functional account. The @educbe.ca has limited functionality.
---
Merge Large Number of PPT files together
There are a plethora of tutorials out there showing how to merge Powerpoint files from within Powerpoint - but these methods are really only are practical timewise for less than 10 files. What if you have 25+ files that all need to be combined?
ASPOSE PPT Merge Tool
---
Access Log Entries Written By Other Teachers
Firstly, you can only view log entries of students you actually teach, unless admin
Click the backpack > select the student > go to the drop down on the right slide > select View Log Entries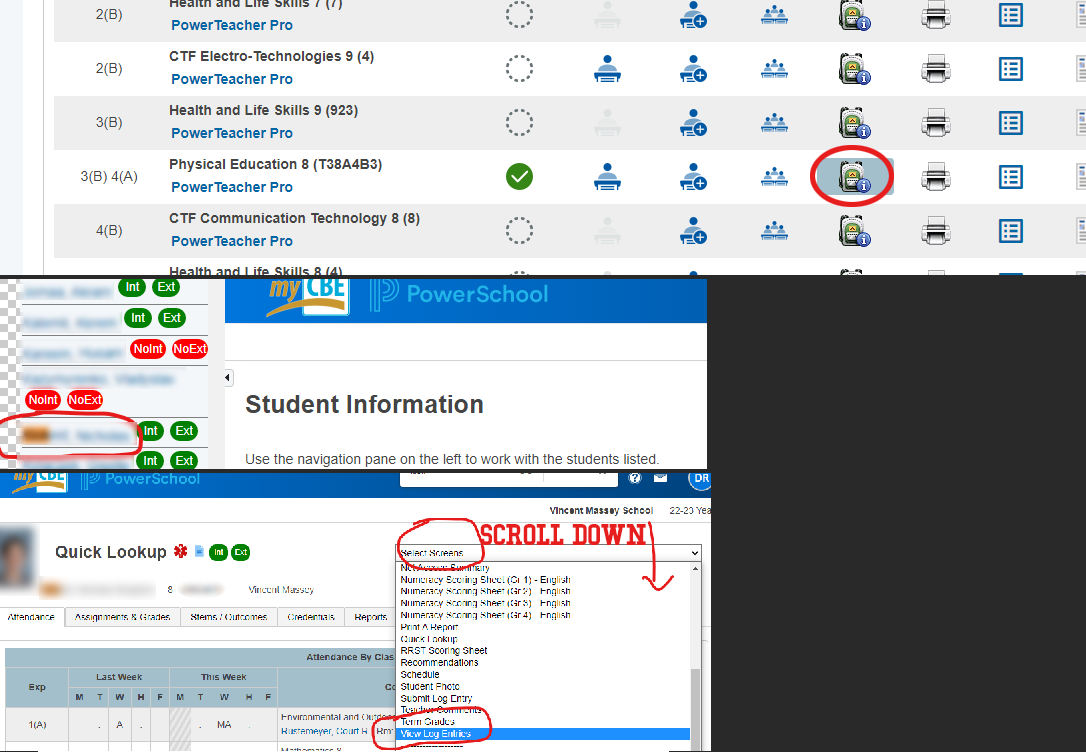 ---